A Mish-Mash of some of the lovely feedback I've received recently, to help you decide if I'm the right person for you:
"Quick message to anyone considering joining The Membership - I joined Sarie when she first started the membership many years ago. It has absolutely changed my life in so many ways! I used to have so many panic attacks that I was almost agoraphobic, I was exhausted and miserable. I had tried soooo many things and nothing lasted more that a few months.
I'm still in the membership, not because I feel I would relapse if I left, but simply because I thoroughly enjoy it! I look forward to the calls and could listen to Sarie talk all day long! X"
"I just wanted to give a little shout out to Sarie for all the support she gives us all! Not just the weekly videos but for the extra ones in between, the unlimited questions we can ask, always replying to messages and comments… where else would you get support like that from a trained therapist for what we pay?
And just for being non- judgmental, understanding and real with us all.
Thanks Sarie xx"

"Sarie has the ability to explain the unexplainable using personal experiences and everyday events.
She openly shares these in the group to support members. It's a safe place to share, there's no judgement, no should or should nots.
Amazing xx"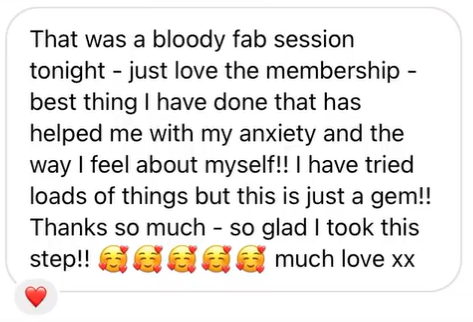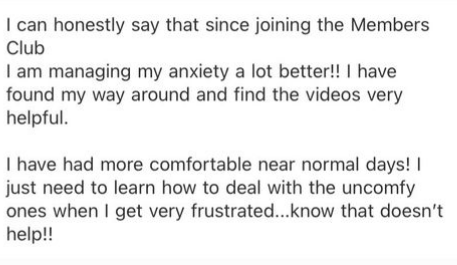 "I joined your membership in February after really enjoying the 5 day challenge, and just wanted to say how much it has helped me get over my fear of sickness it was starting to take over my life and just now I stood and thought I can't remember the last time I worried about catching anything/being sick and it seems ridiculous how much time I spent worrying about it!
So thank you so much!"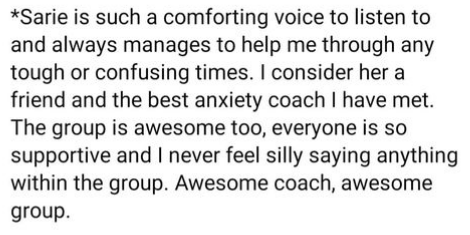 "I would tell anyone dealing with anxiety and panic to absolutely join!! Completely changed my relationship with anxiety and panic over the last year and a half, I can't even believe how far I have come and how differently I see things now!"
"I would currently tell anyone thinking of joining, to absolutely join this supportive group. Sarie is brilliant at getting you to look at things differently, she gives you hope that things can and will change for the better for you, and is very down to earth and easy to relate to. Sarie is always there for us, giving us encouragement and answering our questions."


"I look forward to the videos and can post in the group where others can give advice and knowing others are going through what you are is helpful makes you feel less alone."
"I say don't hesitate, go for it, it will be the best self investment you ever make for yourself. Sarie knows her sh*t and I can guarantee you will benefit from the membership"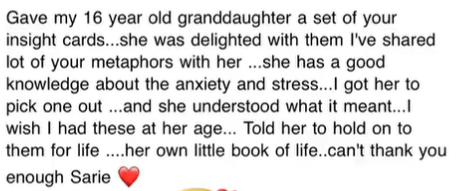 "WOW! As someone who has never considered herself to have any anxieties… I had a list in my head of people I planned to buy these cards for, because I ALWAYS know that when someone I love is struggling with their anxiety or overwhelm, you can help them and I recommend you in a heartbeat every time. However, I've got to say, being privileged to get a sneaky peak at the finished cards, not only are they as brilliant as I'd expected them to be, I actually realised that they are for everyone – not just people who suffer from anxiety or overwhelming thoughts. There are so many cards in this pack that hit me hard in the heart and opened my eyes and ears to insights I didn't even know I needed to see and hear – these not only instantly made sense to me, they were also instantly freeing from thoughts I didn't realise I needed to feel free from! I'm genuinely amazed at the power of your written words this evening. I can't wait to get my own set – and I didn't even know I needed them. Everybody should own a set!"
Anxiety is a F*#!@? Feedback
"Sarie Taylor thank you for writing it!! I had just experienced a fair amount of trauma, was newly pregnant and having panic attacks every other night. I read the book in a few days and although it was so simple everything just clicked for me. I realized I didn't have to "do anything", breathing exercises, etc. to heal. I thankfully haven't had a panic attack since and now have a beautiful, healthy, happy baby! I still reference the book if I'm having a rough time. Can't thank you enough!"
"My book of the year! Loved it so much I read it twice and it's been so transformative for me"
"I found the book very useful. it was very truthful and honest. There was a lot of helpful advice and brought positive thoughts that there are people out there that understand how someone with Depression and anxiety lives their life read her book and loved it, it was so helpful so thankyou Sarie x"
"So great to hear Sarie's stories of her own recovery and how the simple principle can be applied to all of us for a smoother life - thanks Sarie!"
"This is the book for you if you want understand anxiety.... without having to do anything !!!"
"This is a must book for anyone suffering from anxiety..I have read tons of books on anxiety..and Sari's book is the only one that explains how this all works using the 3princples...sharing her own true experience ..made me feel at last someone actually knows what they are talking about and explains it all in a way that is easy to understand....I can't thank sari enough..for all her help....she can make you feel at ease just listening to her....sari will definitely send you in the right direction ❤️"
"Sarie took what a dozen other self help books have managed to make so complicated and made easy to understand. Already feeling better and plan to stick with Sarie as I continue my journey. Fully recommend!"
"This is an honest personal account of what living with 'anxiety' is like. The book offers hope to sufferers and the insight of how human behaviour works is life changing."
"Found this book to be easy to understand and feel I have learnt something from it which will make my life easier. Will be re-reading it more slowly this time!"
Insights Journal Feedback
"This journal is absolutely gorgeous! I love how much space there is in side to write with the gentle prompts – even more powerful when used with my cards! Just what I was looking for."
"I did the one week anxiety course with Sarie and it was really informative. Sarie replied to my emails daily which was fab and continued to do so even after the week had ended which was so kind of her when I was in a difficult place. Sarie posts free things all the time on FB which is amazing as she gives up her own time to do so.
Thank you Sarie, I would recommend the one week anxiety course for anyone suffering with any sort of anxiety as the techniques and information is widely applicable.